Over the past couple of weeks, I have released a few articles talking about visa debit & prepaid credit cards. It has sparked some good conversation and great interest because many people do not know the differences between the two or how they can benefit you in the journey of e-commerce.
Going through the comments and responding to a lot of the DM's I got, I felt that I needed to breakdown what these 2 cards actually are because at least half the people who commented or sent a message, don't actually know the differences and in 2019, this is crucial that you understand it.
One thing we need to get out of the way once again, I am not addressing these cards from the angle of consumerism. I don't care what the limits are for shopping online internationally, so please, pretty please…if you are looking for information on what card to use to shop on Amazon with…stop reading and please don't send me a message about it, go and contact your bank.
This article is for entrepreneurs who are looking to MAKE money online and add e-commerce to their business.
Now that we have got that out of the way, let's begin.
---
Visa Debit
Here in Trinidad & Tobago, we have a company called Infolink that has a partnership with our 5 main financial institutions. Scotiabank, RBC, Republic, FCB & Eastern Credit Union. They have built the infrastructure needed for you to be to use your debit cards across the country. They also provide the bank cards we currently use on their network.
They are currently in the process of switching over all of the banks to their new cards which is the new Linx Visa Debit Cards. These new cards provide the added security of the chips and you can use it at ATM & POS across the globe where Visa is accepted.
Another major benefit that they seem to be discouraging people from using is e-commerce. Take a look at their marketing materials.
***Update*** Infolinx and the banks have now turned ON All local e-commerce access for the cards. Which means, every bank is now replacing their standard LINX bank cards, with new Linx Visa Debit cards that you can now use to pay people or businesses online within Trinidad & Tobago and TTD. You can also use the cards when you travel at locations wherever Visa is accepted. The limit is $120usd/day. These cards will NOT Connect to a Paypal account to receive funds. The fees are still the same as your current bank fees.
The problem with them saying this is that…Visa is accepted online…and because Visa is accepted online, I have been using my Linx Visa Debit Card to pay my bills with local operators and I have also used it to make purchases online. The limits for international purchases are rather small at $120USD/Per Day, but the limits for local commerce are quite good.
The Linx Visa Debit card replaces your current Linx card and allows you to use the money in your bank account to make your purchases anywhere that Visa is accepted. This is big news because now e-commerce in Trinidad & Tobago can finally happen as everybody who is bankable, will now have access to pay you online.
You can finally use services like First Atlantic Commerce, Wipay, Buzzpay to their full potential. If you are a business owner, now it makes even more sense to have a website, because your website will allow your clients to do business with you 24/7, 365 days a year. Having an e-commerce ready website means that your business will never close. You can sell your products and take bookings online and anybody who has this new Linx Visa Debit card with any bank will be able to patronize your business online.
Remember, the Linx Visa Debit Card is the new standard card that is replacing your current Linx card. There are no special requirements, there is no application process to get them, you simply go into your bank and ask them to upgrade your card.
Currently, Scotiabank is rolling them out and the other institutions are in their testing phase and will be rolling them out soon. If your bank is JMMB, well you have been enjoying the benefits of Visa Debit for a very long time already.
So to all Scotia users go upgrade your cards. If you ask them about e-commerce, the bank tellers may not have a clue they can do this, however, since some of you are extremely skeptical people, here is proof that I have been shopping online. Courtesy of Scotiabank Alerts.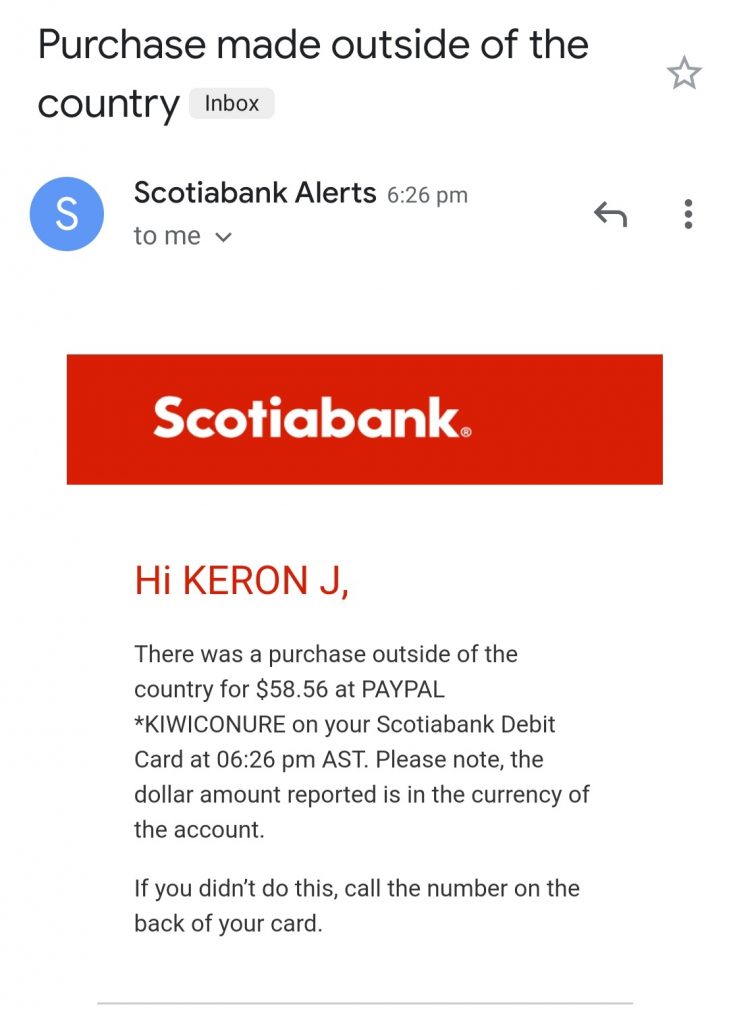 Remember, your Linx Visa Debit Card is tied to your account balance in your (Savings/Chequing) accounts. This is not a real credit card, you are using your own money.
So again, if you are a business owner, this is amazing news. You no longer need to tell people to visit a bank or use a Cash Payment service that requires them to leave their houses to pay you. Setup your website for e-commerce or use the invoicing features from Paypal, Wipay, Buzzpay and have your clients pay you online.
Enjoy folks!
---
Prepaid Credit Cards
Now onto Prepaid Credit Cards, NOT to be mistaken for a Visa Debit Card. This has been one of the most mistaken concepts I have seen in a long time and I have no idea why. I've had so many people DM me or respond in the comments talking about how all of these banks have had Visa Debit cards for years and then I have to correct them and let them know that is not the case and that they have mistaken it for a prepaid credit card.
A Prepaid Credit Card is an entirely separate product that you have to apply for. It is not tied to your (Savings/Chequing) account!
FCB currently offers the Prepaid MasterCard which is a great card to have as it allows you to use up to $1000USD/Per day but this card does NOT integrate with Paypal in order to receive funds. I repeat…This card does NOT integrate with Paypal in order to receive funds. It can only be used for the purpose of spending.
In Trinidad, if you are into e-commerce and want to use Paypal as your payment processor due to its power to integrate with every online tool and the familiarity amongst the international market, in order for you to receive the money from Paypal, it can only be deposited into a VISA account.
So you will either need to have a Republic VTM card (currently being phased out), a Visa Credit Card from any one of the institutions, a JMMB Visa Debit Card or from a JMMB affiliate like (Venture Credit Union, etc) or a Payoneer account.
Currently, the new Visa Debit Card from Scotiabank cannot be registered to Paypal. This may change in the future and I will be keeping an eye on it. Which means that you cannot use them presently to receive money.
Your Prepaid Credit Cards also have a limit as to how much money can be held on it and they also have the higher cash advance fees if you wanted to withdraw the money from them, so I try not to deposit my Paypal funds into my Republic VTM card and I send the money to my JMMB account.
In summary, the Prepaid Credit Cards are an entirely separate product that you will need to apply for. They have limits as to how much money can be placed on them, they have loading fees and higher cash advance fees to withdraw money.
---
If you are a business owner here in Trinidad & Tobago, the missing piece for e-commerce has been for the majority of the public to be able to pay you without having to leave their house. As the Visa Debit Cards are now the standard cards distributed from Infolink, now is the time to start setting up your e-commerce onto your websites or even getting your websites in order.
So hopefully this little breakdown sheds some light on the differences between the 2.
(Visited 1,184 times, 3 visits today)