The funny thing about starting a new journey is that you never exactly know where it will lead. We try to plan as much as possible but thing's don't always go to plan. When I started Droid Island, I had my eye on 1 problem, to help in the lack of education in the smartphone industry in the Caribbean. That's it, that was the plan. I didn't even dream of having my own store as yet, let alone building an E-commerce business.
Before I can break down the lessons learnt, I need to briefly touch on why I had to transform my business into an Ecommerce business.
I had opened the Droid Island store right in Curepe junction in the summer of 2017, it was a place I could call home and finally serve my clients in a face to face manner. I had been creating content since Sept 2016, so by the time I was ready to leave my then job at Digicel, I had already established my name and brand in the market.
I already had people who had been contacting me over the months to buy many of the smartphones I talked about, so getting into retail seemed like a natural step. Digicel was gearing up to do their first rounds of layoffs that summer and I didn't want to stick around to see if my supervisor's job was going to make it past the downsizing exercise. I quit in May 2017 and opened the store in July 2017. Ironically, most of the Sales Supervisors got laid off shortly after in Sept.
I had the store for about 8 months. During that time period, I had ramped up my content creation. I was writing more blogs than ever before, I had also started shooting videos with Devon X Scott for the first time and then I landed my first sponsorship with Huawei in November 2017. From there, I had companies wanting to work with me after that campaign and it paved the way for everything else to happen thereafter.
In March 2018, Bmobile reached out to me and wanted to partner with me on creating content for the brand. Now as you can imagine, running a brick and mortar store has quite a bit of cost and I had always wanted to monetize my intellectual property because I had thoroughly enjoyed teaching and could see myself doing it full time. Plus, you can scale content and make really good money from creating content.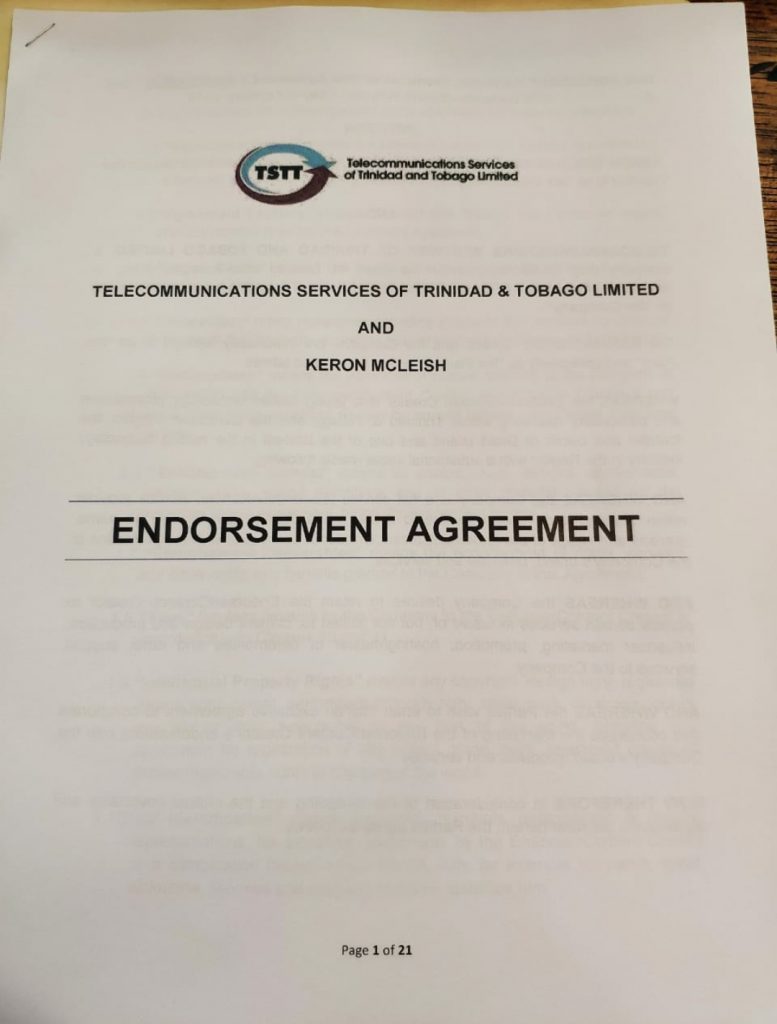 In seeking a lawyer to begin the negotiations, the bill was about 3 months' rent for my store *YIKES*. The decision came down to keeping the store or closing the store, in favour of partnering with Bmobile.
I decided to close the store and the rest is history.
---
*Even though we worked together up until the summer of 2019, they had a shift in their leadership team which ended up putting my long term endorsement deal on the back burner before we signed off on it.*
---
Moving on…even though the store was closed, I was now appearing everywhere and had built up a really engaged community, people still wanted to buy phones.
I spent some time looking at my options for rebuilding my website, which at the time was strictly a blog, into an E-commerce ready website. I found Wipay, rebuilt my website, learned about their logistics partner Trin-E-Box and repositioned the Droid Island brand as an only smartphone retail shop.
The change allowed me to be mobile, create content all over the country, establish new partnerships and still sell my products via my website. Ecommerce, allowed me to create another stream of income, without me having to sacrifice my passion for creating tech content.
So now that I got that out the way, you have a bit of backstory as to why and how the decision to get into Ecommerce came about.
Now here are the 5 key lessons I have learned about the importance of having an Ecommerce or Ecommerce ready business. Given the pandemic, these lessons may prove fruitful for you.
Low Cost, Low Barriers
Ecommerce websites can be affordable to build
It's not complicated
Great additional income stream
There are so many options to get started
Low Cost, Low Barriers
When I started the brick and mortar store, the costs to get started were high. I can easily say that not everyone will have the luxury of building a brick and mortar business. There are just too many costs and factors that play into your success. The stakes are high for you to succeed or you will crash and burn under your mounting debt.
My shop neighbour moved in the week before I did and didn't make it to December.
Ecommerce, you can wake up in the morning with the thought of starting an online business and have one built before you go to bed.
There are so many facets of online businesses that you just need to make a decision and you can get started with next to no money.
For example, you could decide to sell products. Purchase your domain for $7usd, host with a company like Namecheap for $2.43usd/month, install WordPress, use the free Storefront theme from Woocommerce, use Paypal/Wipay to process your payments which is free to integrate onto your website (they get paid on transaction fees), you then scour the internet for products and resell it on your website.
You could take orders upfront when they pay you, then you go out and bring in the product and have it delivered to them (Dropshipping) or you can decide to set yourself up with any of the companies who have a good affiliate program (Amazon) and earn commissions off any products sold. You can post your products and blogs on social media, in order to get traffic coming to your website and boom…Those are 2 quick methods for starting an online business…Dropshipping or Affiliate Marketing.
---
Ecommerce websites can be affordable to build
This is currently one of the biggest myths on the market, that building a website is hard and expensive. It can be neither, once you know what you are doing or willing to learn.
Switching from Brick & Mortar to an online business, forced me to research every aspect of having an E-commerce business.
When I rebuilt my website from scratch, it cost me less than $500ttd to build the Droid Island website that you see today.
When I built the new Keron Rose website that you are reading this blog from, it cost me $50ttd.
Keep in mind, Wipay and Paypal are free payment processors you can integrate into your website, they make their money whenever you use them to process a transaction.
So when I went from buying the products upfront to stock the shelves, to a Dropshipping fulfillment method and using Wipay, it cost me ZERO dollars to start selling my products on my website.
I only paid for anything when a product sold. Someone visits the website, makes a purchase, Wipay takes their fees. I make my profit upfront and then I go about ordering the products from my suppliers and having the items delivered to my clients. I love Dropshipping!!!
---
It's not complicated
I dropped out of my college program because I hated Dreamweaver, I can't code for crap. I was taking Computer Networking & Systems Technology. I wanted to be that guy who installed computer mainframes into offices (Sounded fun at the time) lol.
Fast forward 10+ years and not only have I built dozens of websites, but I am also now coaching people on how to do that for their own business.
Building your website is no longer this complicated process. Building an online business is no longer complicated!
We have HUNDREDS of tools that allow us to make online courses, digital products, ebooks, resell items, make money off of traffic, online sponsorships or selling ad space on our platforms.
We simply need to educate ourselves on the various tools, have a solid understanding of who we are, our passions and how we actually want to make money, then go out and execute.
I love technology, I have grown to love building an online business. I now get paid to talk tech and teach online business to other entrepreneurs.
---
Great additional income stream
Over the years, people have always asked me "whose my web developer?", "Who does my marketing?", "Who writes my content?"…so on and so on and everybody was shocked that I did everything myself.
My visuals though…from video to photography, I outsource those to one of my group of friends (Devon Scott, Edward Charles, Josh Brizan, Kyle Archibald and Tarique Eastman). Essentially all of my videos and photos are done by one of them.
While I shift towards teaching more about entrepreneurship, specifically on building your online business, Droid Island is still there. Admittedly, I don't do as much tech content as before…but it still earns me money every month because people are still buying products lol.
So even though my head has been elsewhere because it is a product based E-commerce business, there are no overheads, and I am still able to generate money from it. It doesn't even need to generate a ton of sales anymore because it is no longer my main source of income…I even thought about closing it down, but it runs pretty semi-automatic, very-low maintenance and still earns at bare min 5k on a slow month in profit.
It just goes to show you why Ecommerce is such a powerful business model.
---
There are so many options to get started
When it comes to having an online business, there are just so many ways you could get started.
Do you want to resell products, do you want to create your own products and sell on your own self-hosted platforms?
Do you want to create digital products? Do you want to create a buzzing Youtube channel and monetize?
Do you want to create an affiliate marketing business?
Do you want to teach and create courses or sell access to your privately instructed webinars?
There are just so many methods you could start with, all with varying degrees of costs.
---
People might think that you need to have the fanciest equipment, the sexiest website, the best pictures or videos…sure they all help in the long run but the goal is to START where you are AT!
The reason I decided to start teaching is that It wasn't long ago that I had zero money to my name and I knew I needed to do something with my life, something that wasn't going to mentally kill me inside every single day.
For me, business isn't hard, I enjoy it even on the annoying days…because what's no longer an option for me is working for people. Working in a business that kills my soul every day I gotta wake up and enter a building I don't want to be in.
When I took the job in 2019 for 6 months, I woke up 7 days a week a 3 am. Doubled down on my Droid Island business and teaching workshops, because I knew that I could not be at the job for long. The job was a management job too, no stress and paid pretty well…still, it's not for me…Working a 9 to 5 I don't enjoy is harder than business will ever be for me.
So, folks, I hope you can relate to some of the things I talked about here. Many of you right now have been displaced or on the verge of being laid off due to the pandemic.
Now is the best time to start doing some soul searching on your passions, learn some new skills and take that passion of yours online, so you can participate in the global economy.
Now is the 2nd best time to make that leap, the other time was yesterday.
If you need any help getting started, you can check out my coaching page and see how I am currently working with 1 on 1 clients (Coaching Page).
You can also check out the Digital Age Webinar Series and learn more about Online Business.
Ecommerce is the lowest hanging fruit for passive income and is great way to get you out of the rat race.
(Visited 267 times, 1 visits today)