It's 2020…arguing about whether you need a website or not because you have a Facebook account is so 2019. I know that one of the biggest reasons people do not have a website is because of the fact that they believe it is still too expensive to get one. Do you know what is expensive? Not having a website in 2020 and learning how it works. Having a website is merely step 1, developing a plan so that your website brings you business and generates money is another thing. So let me break this down as simple as possible and show you how to start a WordPress website in 5 steps.
The steps are pretty simple:
Find a host & buy your domain name
Purchase a Theme
Install WordPress
Upload Theme
Customize to your liking
I know, I know…it's too simple right? lol. To be honest, this is the exact process to go about building your website. Now, this is keeping it as basic as possible, customizing your website can go extremely deep. But purchasing a theme is essentially giving you a ready built website that is good to go and no 2 themes are built the same.
Web developers over the years have focused more on building themes and selling them vs building custom websites. Platforms like WordPress have made building websites extremely easy for non-developers to build. WordPress is the world's most popular CMS (Content Management System) the has a current market share of 60% and 35% of all websites in the world are made using WordPress.
As of Dec 2019, the current top CMS platforms used in order are 1) WordPress, 2) Joomla, 3) Drupal, 4) Shopify, 5) Squarespace.
Another key thing to note is the difference between WordPress.COM and WordPress.ORG.
Essentially, the WordPress free blogging platform is their ".COM" website. If you wanted to use the paid software, you would be using the ".ORG" platform. Websites that specialize in WordPress, are using the WordPress software to install onto their hosting platform.
Having your website is going to be the key to your business growing and earning income or bringing in new clients for you. Without further adieu, let's dive into those 5 steps of creating a WordPress website.
---
Find a host & buy your domain name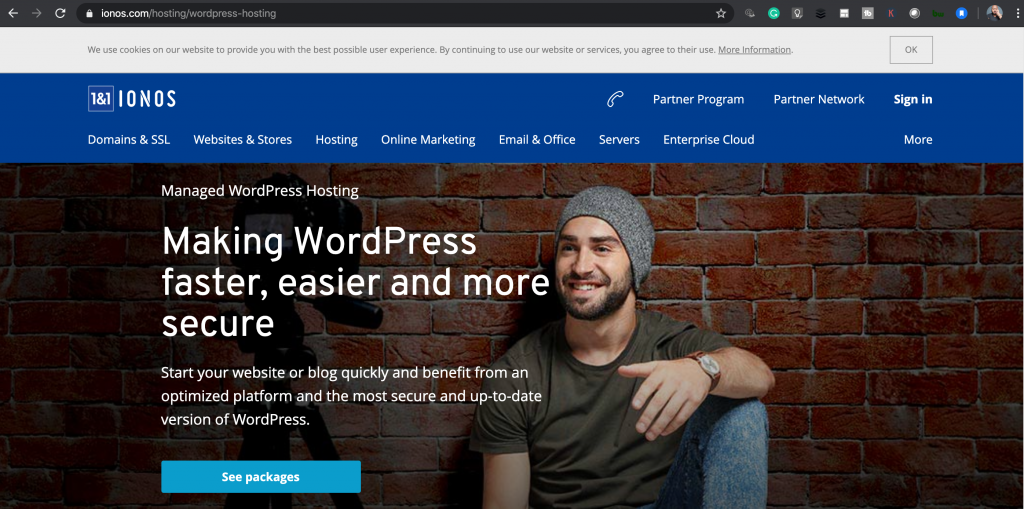 The very first step is to go and find a hosting company that specializes in hosting WordPress websites. For this example, I will be using the company 1&1.
Once you have done your homework and determined, which is the best hosting company for you, go ahead and purchase your domain name and hosting package.
In terms of homework of choosing a hosting company, just Google "Top WordPress hosting Companies 2020," and go for whichever one tickles your fantasy. Remember, you can always move hosting companies at a later date if you are not satisfied.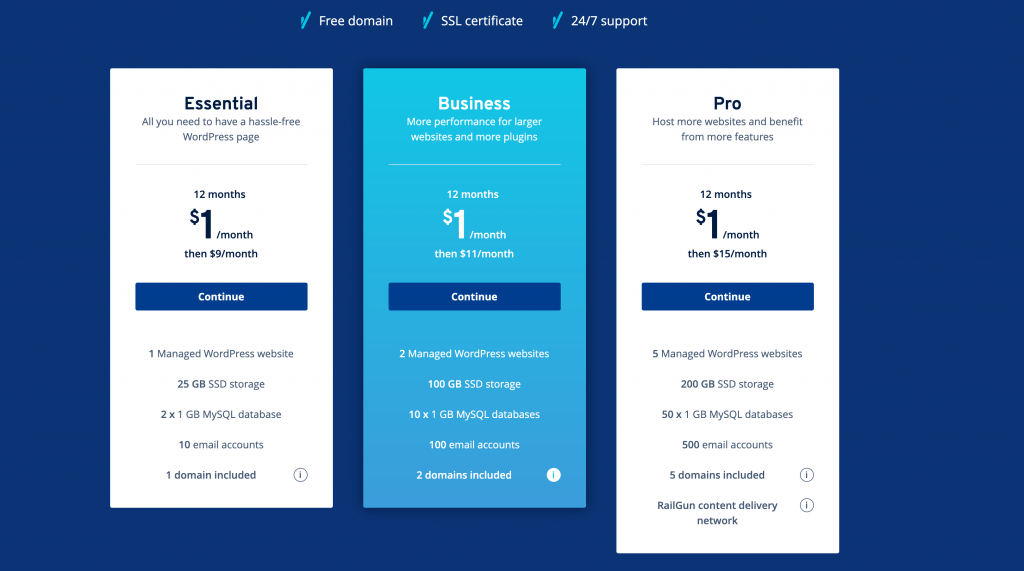 Try to find a hosting company that offers a free SSL certificate, since this is mandatory for e-commerce platforms and also helps with the perception of your website amongst your visitors. Another good option to have included in your plan is a CDN (Content Delivery Network), which essentially allows for a copy of your website to be stored on your hosting companies various servers around the world, allowing for faster response times for your visitors to access your website, depending on their location.
Once you have purchased your domain and hosting package, you can then move onto the next step.
I just purchase the domain name, MyLongWeekend.Co and hosting for a client and it came up to $16usd. The domain name is what you purchase for the year and the hosting is what you pay for monthly.
---
Purchase a Theme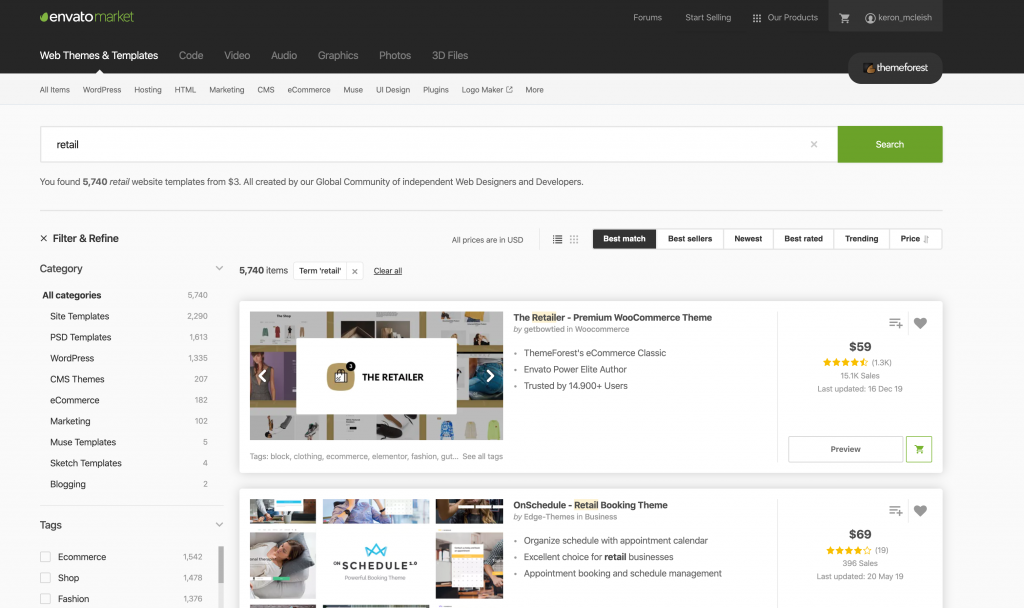 Next up, is to go hunting for a WordPress theme. Now, these are a godsend in today's digital age. A theme is basically a fully developed website in a box, that you can customize to fit your exact needs.
This takes out ALLLLLLL of the coding needed to get you up and running unless of course, you wanted to get fancier. Many of these themes are also e-commerce ready or have built-in booking tools, the list goes on with respects to what functionality the developers put into these themes.
It's imperative you have a good understanding of what you are looking to have your website do for you so that when you are shopping for themes, you have a good idea of what you need.
You can also click on the "Live Preview" option to test out the theme and all of its functions before you purchase. What's also really good to note is that many themes come with various looks and setups, so 1 theme might have 8 different setups that you can choose from.
Take your time, go through the themes and do some real research into them for the best fit for your business. The closer the theme is to what you want, the easier it will be to customize.
I have themes as cheap as $14usd and go right up to $100usd, there is literally no excuse for budget concerns today. As long as you are willing to put in the time to learn how this works. I use ThemeForest to purchase my themes. My Droid Island website cost me $60usd and my Keron Rose website cost $20usd.
---
Install WordPress
Now, here is the fun part. I will post a few screenshots to illustrate how you go about installing the WordPress software onto your hosting platform.
1) First, select WordPress as the CMS you wish to use. Remember, there are a variety of CMS platforms to choose from, it does not have to be WordPress.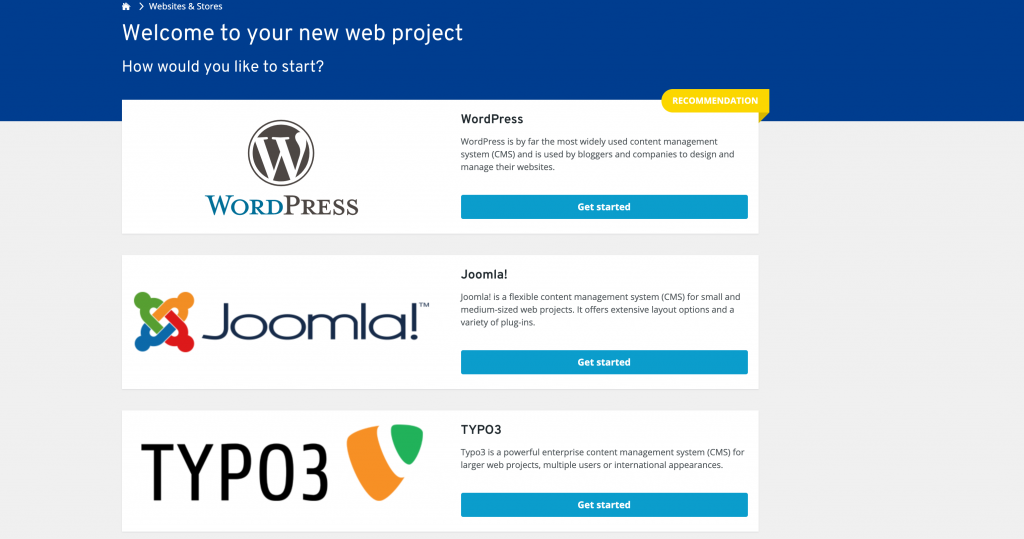 2) Assign your domain name to your project.

3) Your WordPress website will be installed and then you must click on Edit Website, to get access to the backend of your website.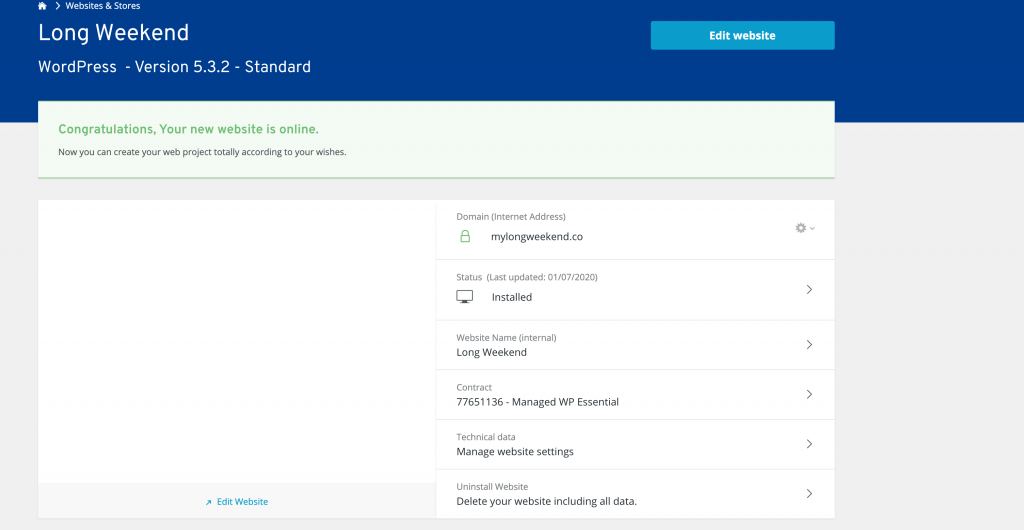 4) You are now in the "backend" of WordPress, click on "Appearance" to upload your purchased theme.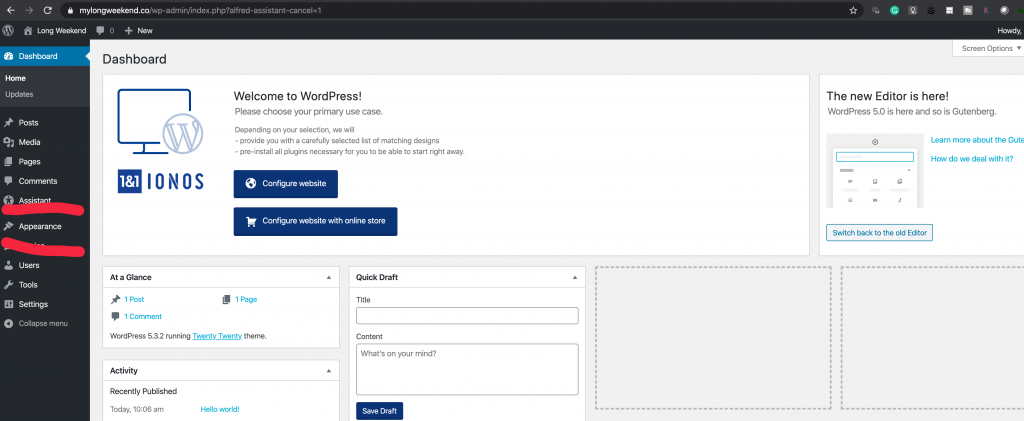 5) WordPress gives you a bunch of free themes to get started with but you must click on "upload theme", to install your purchased theme.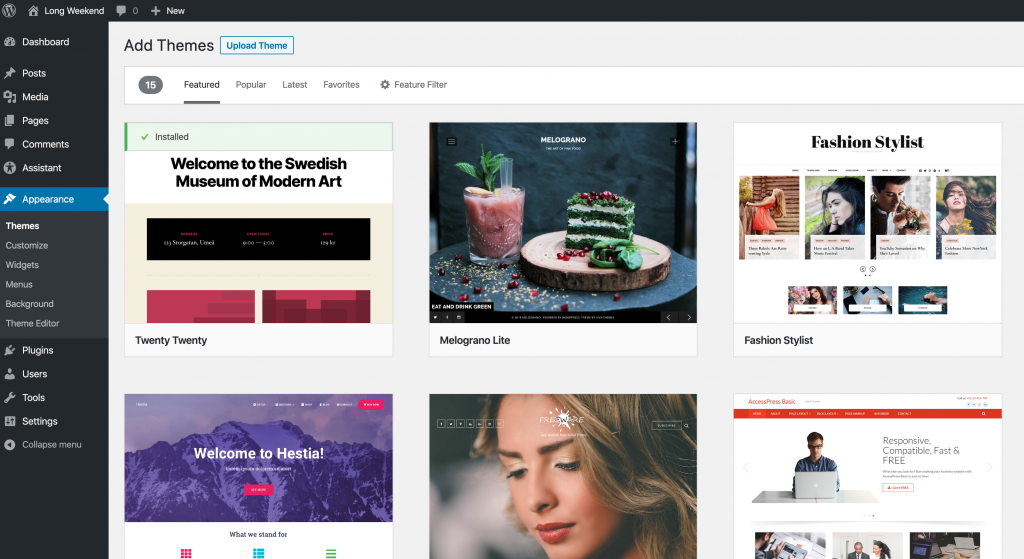 6) Activate the installed theme.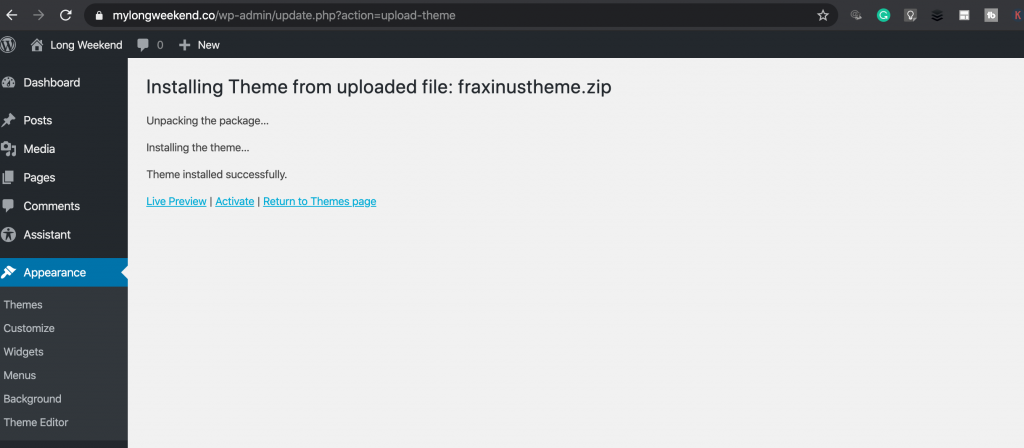 7) Your website is now live and running.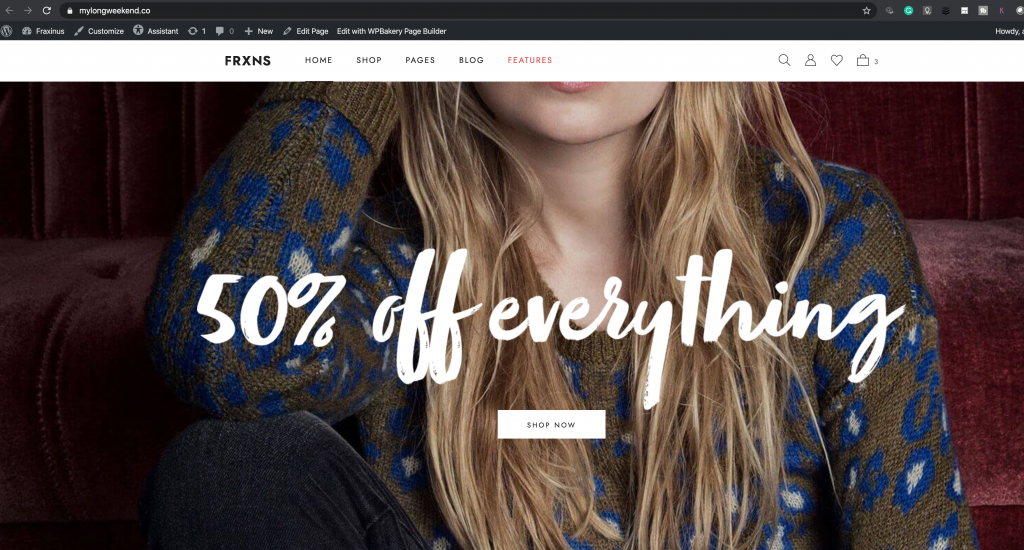 ---
Customize Your Theme
Now that your website is fully up and running, here begins the fun part, customizing your website. Every theme comes with extremely detailed instructions from your developer to go about customizing your theme.
Your themes are also built with page builders, that allow for easy customization. Another great thing you can do to get you started and make the process even easier is something called "1 click demo install". What this allows you to do is install every single piece of content, page, pictures from the demo you were viewing upon purchase.
This makes your job easier because now you are not starting from scratch. You can add and remove the pages or menus as you see fit, edit all of the copy on your website, change all of the pictures, add your own products to the store and change all of the colours of your website to your brands.
Now, this process takes the most time to get everything the way you wanted. When I first build Droid Island, it took me just over 2 weeks to get it just the way I wanted. I was building an e-commerce & blogging platform, plus it was my first time around actually building it myself. So there was a lot of research that went into it but if you recall me mentioning, it cost me $60usd for the website and just the time to learn in order to make it work for me.
The Keron Rose website, took me 2 hrs to put it all together because it wasn't as demanding as the Droid Island website. Keron Rose was set up just to blog. Plus, I had already done my photoshoot with Edward Charles, so I had all of my pictures ready to upload and customize the website.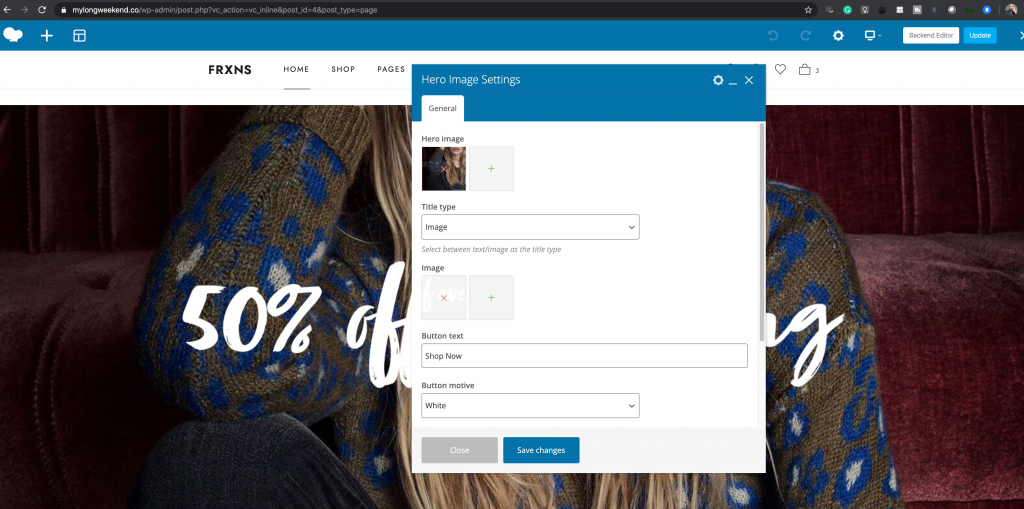 What I have outlined, is how you will go about setting up your domain, get hosting and installing your theme for your website. It's now your job to learn how to customize it and set it up the way you need to, in order for it to work for you.
---
Remember, the easiest part of all of this is actually getting a website. It's no longer hard, it's no longer expensive, as long as you are willing to invest a little time in order to do it.
When I helped Edward build his website, we did about 90% of it over coffee in Starbucks. He went home and just needed to add the copy to his website but had all of the frameworks in place and learned where to go to make the changes.
So now you are probably asking, what is hard about websites? Well, to be honest, it's learning SEO, how to drive traffic, how to generate money or clients and learning how to create content for the web.
Your website is never done, it is in a constant state of work but guess what, this is your own slice of the digital plan. This is your hub, the one thing on the web that you control.
If you do not have a website now and if it is not apart of your plans for 2020, you WILL not survive against those with a comprehensive website strategy. Your website is the only employee that works 365 days a year, 24 hrs a day. Your website is selling your products & services while you are sleeping and allows customers to do business with you, without having to speak to you.
If all of this sounds complicated, don't worry, 2020 I will be having workshops to break all of this down. The most important is that you come into any of these workshops with step 1 done, HAVING A WEBSITE!
Feel free to hit me up in the comments or DM, if you would like to be apart of my upcoming WordPress workshop, date to be announced.
(Visited 281 times, 1 visits today)