Have you heard about Google Business? Here in the Caribbean, one of the biggest mistakes we are making is not building our Digital Assets. The focus has generally been on trying to succeed on social media but many have not taken the time to understand what actually works on social media in order to find that success. A better strategy for businesses is to start investing in their digital assets and begin truly building their online presence.
That said, I am going to start talking about the digital assets that businesses in the Caribbean need to start building. First up, here are 5 reasons to set up Google Business and I'll break down its significance in 2020.
Before we go any further, let me first explain what it is.
Google Business is a free platform that allows businesses to control how they show up Google Search and Google Maps. It serves as a powerful touchpoint for consumers to Google you and get details about your business, reviews of consumers, the power to follow you and message your business directly from search, get bookings, get insights, monthly data reports, set up a Q&A page for frequently asked questions and share updates about your business.
Over the past few months, Google has added a variety of functionality to beef up the utility and power of Google Business. You can actually now follow the business on Google and with "Near Me" searches sitting at the top of Google Search terms, you definitely don't want your business to miss out on this traffic to your business.
Local SEO is an often overlooked and Google Business is a tool that sets out to fix that and expand your digital presence outside of social media.
The best part is that you do not need a website in order to set up a Google Business profile but if you do have a website, this is a GREATTTTTT way to get traffic coming to your platform.
This tool isn't just for small businesses, this platform is for large businesses as well and you can set up multiple locations and customize their info if they differ from your other branches.
If you do not have a physical location, you can set up service areas/countries, so people know that you serve the country.
If you have a physical location and your business also services a city or country, you can set up your profile to show both pieces of information.
So without further adieu, here are the 5 reasons to set up a Google Business profile.
Get Found on Google Maps
List Business Updates
List Products
Reviews Improve Business SEO
Monthly Reports & Insights
---
Get Found on Google Maps
As I stated earlier, one of the top searches on Google is the "Near Me" searches, which typically look like "Restaurants Near Me". In order for Google to pull up your business in the search and on the maps, your business must be listed on Google Business.
Google says that 1 in 2 people who do a local search, visit that store the same day and 76% of people who conduct a "Near Me" search, visit that business within a day. Google knows this simply because it cross-references your search data by the locations you visit (Google knows all).
When Googlers see that your business is active, posting updates, have your hours & services listed, and new reviews, they are more likely to actually contact and visit that business.
---
List Business Updates
This has been one of my favourite features that got added last year. You can now list a variety of updates onto your business profile, that your audience can engage with.
You can post What's new, upcoming events, products, special offers, and new photos/videos of your business onto the platform. Your audience will be able to see all of this activity right from the Google Search platform.
Being able to put your content directly onto the Google Platform vs Social Media is a godsend. For many businesses, this is the type of traction they need in order to get more foot traffic into their doors and onto their website.
Keep this updated and watch your search traffic blossom. Remember, in 2020, website visits have been taking a dip but search traffic is at it's highest it has ever been.
---
List Products
If you do not have a website, this a great way for your products and services to be found directly on Google. However, if you HAVE a website, you can add your products and link them directly to your website for checkout.
You will be able to list the product, information, fixed and variable prices on the listing itself. Google Business also gives you various buttons like Register, Learn More, Book Now, Order Online, and Get Offer, that you can use depending on your listing.
Take full advantage of this!
---
Reviews Improve SEO
Too many businesses settle for Facebook reviews. That's cool and all but while it's nice for your Facebook profile to have reviews, it doesn't offer the SEO advantages of Good Business Reviews.
The more reviews your business gets on Google Business, Google uses this as a metric when ranking your business. The more reviews your business gets, Google will know that this is a reputable and highly coveted business and it will rank it higher on Search Listings.
This will also benefit your website's SEO as it will benefit from the boost in Google Search Rankings.
---
Monthly Reports & Insights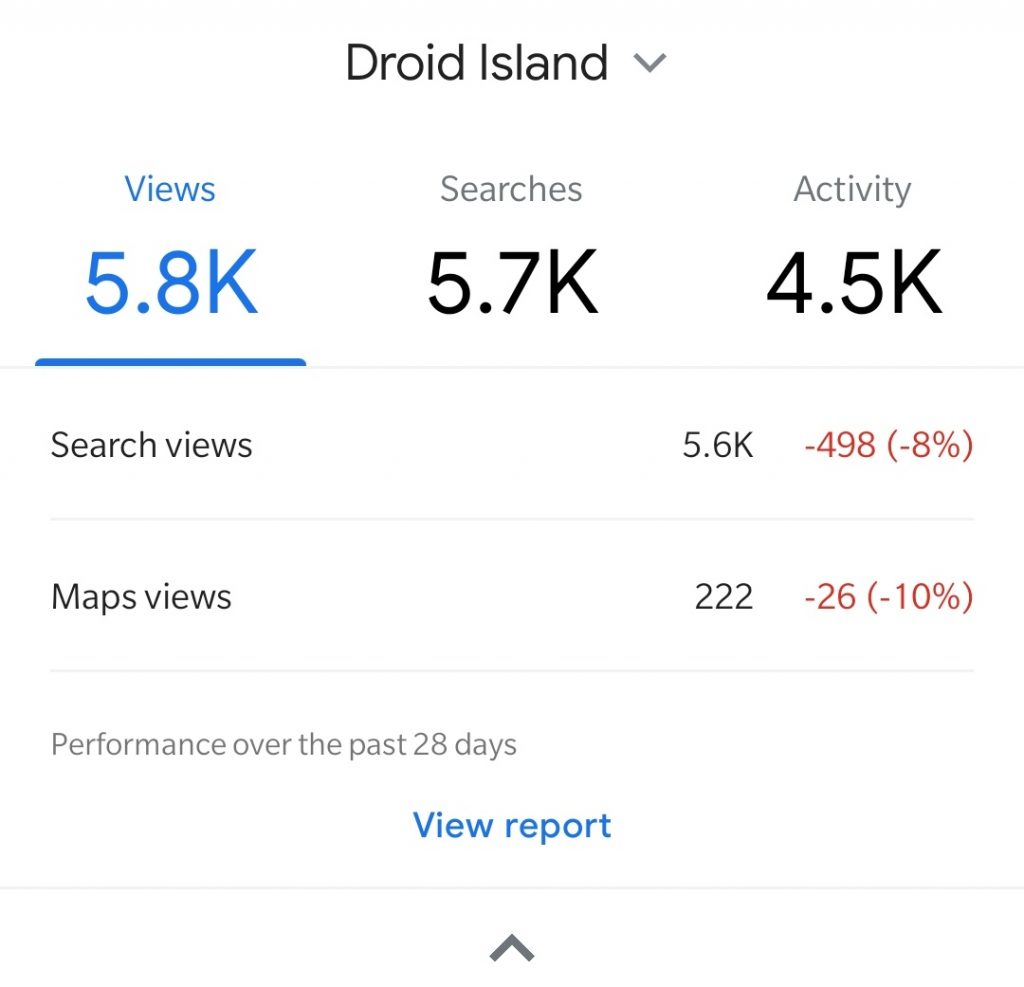 Every month, Google sends you a report card of how your business performed on Google Search & Maps for the month. It breaks down the views of your posts, pictures and videos and compares the performance to the previous month, so you can easily see if you are growing.
My favourite part of these reviews is the insights you get. You get a breakdown of how many people visited your location from search, checked out your website, viewed the pictures/videos you have posted onto Google Business and how many people called your establishment.
The reports also include a weekly breakdown of how many phone calls you get on specific days.
You also get a breakdown of the top search terms that were used by Googlers, in order to find your business. I can't stress how important this is, especially when you are trying to rank for specific keywords.
All of this information will help you to monitor your progress but also allow you to double down on what is working.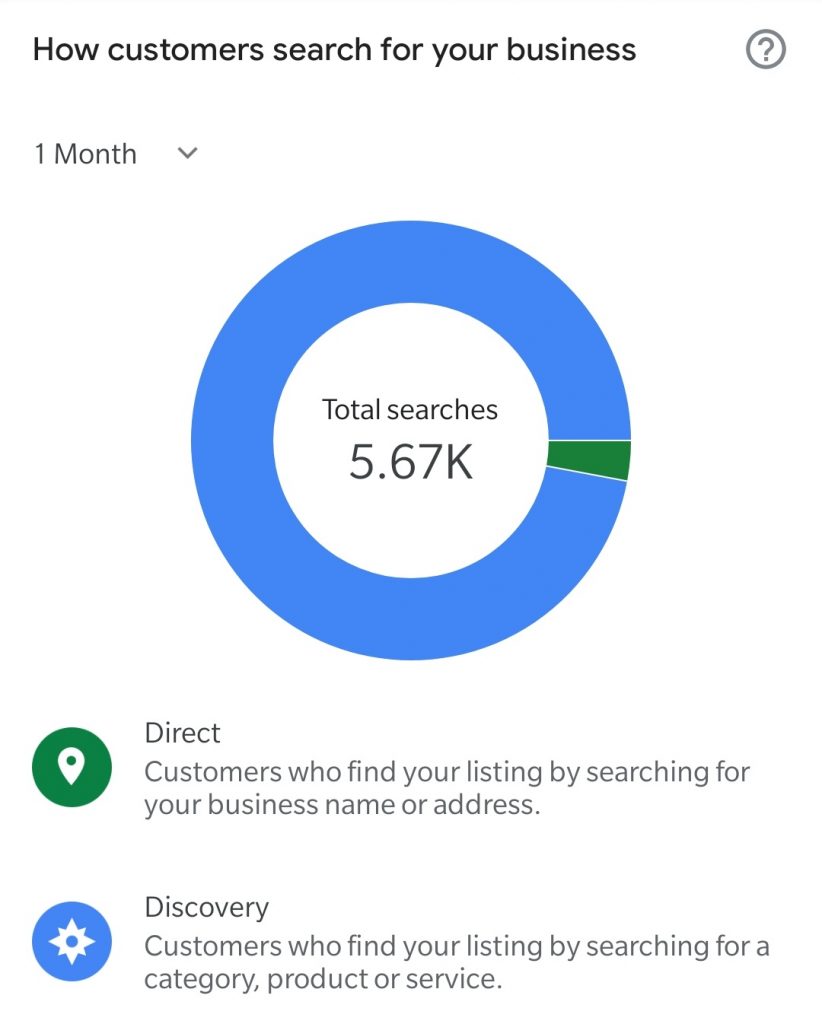 ---
Google Business is a platform that is going to be even more important in 2020. Organic reach on social media platforms is already low and will get lower, meanwhile Google Search traffic is exploding.
Google is also changing the way search results look. You would have seen the new Google F.A.Q setup, giving Googlers the dropdown menu with the question and answer right there on search, without having to click through to websites.
Google Business giving you pertinent details on businesses without having to visit their website or social media pages.
With Voice Search via smart assistants on the steady rise, you need to ensure that this platform is apart of your plan in order to take advantage of everything.
Now, this platform has a lot of different elements to it and it can be a bit much right in the beginning. If you are self-starter, start doing your research on how to maximize this platform.
To get started with Google Business, you can check it out here (Get Started).
For all of those who are afraid of the information overload and want a guided approach to Google Business, let me know in the poll below if you would like me to host a workshop on Google Business.
Sorry, there are no polls available at the moment.